Experience a little bit of space history for yourself…
As a movie,
"Apollo 13"
captured this event really well… but nothing can truly replace hearing/re-living exactly what happened.
This video does a really decent job of syncing up the MCC (Mission Control Center) audio on the left channel with the A/G (Air-to-Ground) audio on the right channel. You can really hear the team interaction clearly as they worked the problem.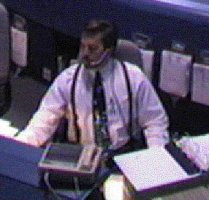 During missions, whether from this Apollo program example, from
my Shuttle experience
, or from the current
MCC
team's ISS support, the fine art of managing simultaneous tasks was one of the most valuable skills.
While working problems like this, trying to monitor multiple issues, listen to multiple voice loops, responding to and managing the main problem WITHOUT causing any secondary issues or inadvertently closing off future options, distributing tasks to your team and absorbing and using their results back to you, working with other members of the MCC team, and then (ultimately) providing solutions to the crew was both the most nerve-wracking and simultaneously rewarding thing I've ever been associated with.
Just remember – the MCC audio is *only* the FLIGHT loop.
Each MCC Flight Controller had not only their own loops with other Front Room controllers, but also multiple loops to their backroom support. Each Flight Controller was monitoring, talking on, and participating in numerous threads simultaneously!